Accessibility Statement
Our goal is to ensure our platforms are accessible to all individuals.
At Guide Dogs NSW/ACT, we aim to make our content accessible to the widest possible audience. Our website and associated resources are designed to meet the latest standard of the Web Content Accessibility Guidelines at minimum AA level.
We may at times share resources from external parties. The accessibility standards of these third-party materials might not always adhere to AA level guidelines.
We are committed to making our website accessible for everyone. If you have trouble accessing information on our website, please let us know using the contact us form.
Our approach to accessibility
We work to remove accessibility barriers for people with low vision or blindness.
As one of Australia's most trusted service providers for people with low vision or blindness, Guide Dogs is proud to have a prominent voice for equitable access in the community.
We provide a range of services to promote and advocate for a future where everyone can independently and safely access the community, use public transport, visit public places and spaces, access health and education, achieve meaningful employment, and more.
Individual level advocacy
If you are blind or have low vision, we can help support you to advocate for yourself.
People who are blind or have low vision often experience access issues. For example, a restaurant might stop a person from bringing their Guide Dog inside, or a taxi or rideshare driver might not allow the Guide Dog in their vehicle.
If you experience a barrier to the use of a service or space we can support you with training and information. If you require additional support, we can connect you to organisations with expertise in individual advocacy such as  Blind Citizens Australia.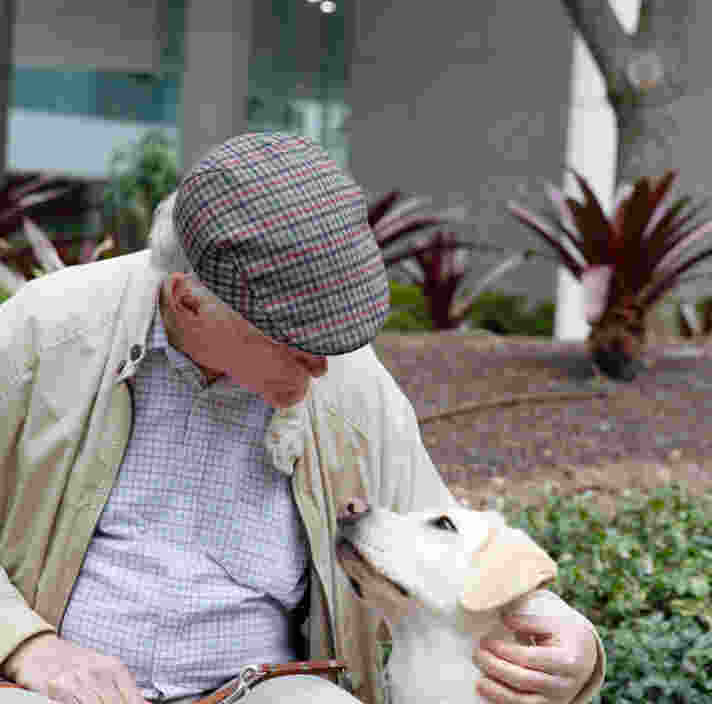 Systemic advocacy
We aim to influence positive long-term change in systemic and community accessibility
At Guide Dogs NSW/ACT, the Access Service delivers ongoing systemic advocacy and community education on accessible and inclusive design.
We aim to influence positive long-term change in accessibility, removing barriers to provide the best outcome for the most people possible. For example, we do this by:
working with other NSW and ACT disability sector agencies and key government stakeholders to identify access issues and lobby for changes to legislation, policy, facilities and services.

contributing to discussion on national access issues through our collaboration with Guide Dogs Australia.

participating in public and private advisory panels such as Australian Standards, Transport Canberra and City Services Disability Reference Group, and the Transport for NSW Accessible Transport Advisory Committee.
creating change at a local level by providing expert access assessment and advice for people who are blind or have low vision on specific projects to government and non-government stakeholders through our Access Consulting service.
Our systemic advocacy work is informed by the access experiences of people with low vision and blindness. We consult with clients formally and informally to identify the systemic access issues they are experiencing and where change is needed.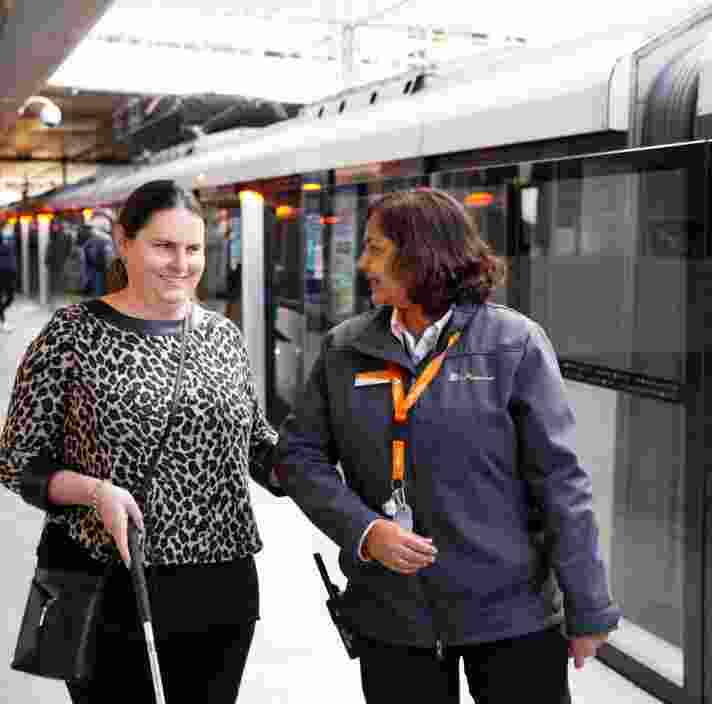 Our campaigns
Campaigning is a key part of our systemic advocacy approach, driving change and raising awareness on critical issues.
For example, our Access All Areas campaign was designed to remove barriers for people with low vision or blindness by reminding businesses and the community that a Guide Dog in harness is legally allowed to enter all public places.
More examples of our recent campaigns can be accessed below.
Rethink Refusal

Our Rethink Refusal campaign aims to educate the wider community on how a Guide Dog refusal can have serious implications for the immediate safety of the Handler.

Talk to the Handler

"Talk to the Handler" highlighted the people behind the dogs, so to speak, and to shine a light on the things Guide Dog Handlers want the community to know.

Petiquette

The Petiquette campaign discussed the different ways pet owners and the wider community can practice good petiquette to allow Guide Dogs to carry on their important work.
Lived Experience Presenters
People who have lived experience of blindness and low vision drive what we do as an organisation.
People who have lived experience of blindness and low vision drive what we do as an organisation. We also believe that their voice is essential in improving the attitudes and behaviours of the community to achieve inclusion. This is why we recruit Lived Experience Presenters with blindness or low vision to share their story and deliver training.
Our Lived Experience Presenters are talented speakers who attend a wide range of engagements and events. They are passionate about the inclusion of people with disability in the community. Through their role, they:
Share their lived experience of blindness or low vision to encourage a shift in attitude towards people with disability
Discuss their use of Guide Dogs NSW/ACT services, key referral sources and the impact we have made in their life
Provide training in how to interact with and assist people with blindness and low vision in an inclusive way.
Please note that although we love the opportunity to speak at many events and organisations, our Lived Experience Presenters are in high demand. Before we commit to community engagements, we assess our capacity and the potential outcomes of our Presenters involvement.
If you would like to enquire about booking a Lived Experience Presenter or learn more about the program, please email speakers@guidedogs.com.au.
About our advocacy partners 
Guide Dogs is proud to work closely with a wide range of State and Federal Government departments while partnering with organisations including:
Scope of our advocacy service
While at Guide Dogs we provide assistance where we can, there are certain areas that we do not cover. We are not equipped to offer individual advocacy services, nor do we lodge complaints for individual clients. Though we understand the complexities of legal and financial matters, our team is not able to dispense legal or financial advice.
Additionally, we believe in empowering our clients to make their own decisions and our services do not extend to providing counselling or mediation, as we recognize these require specialized expertise.