History of the Regional Client Advisory Committee
Improving service and building connections.
To help improve our services and build a stronger connection with the blindness and low vision community, we launched the new Regional Advisory Committee initiative in 2019.
Two groups formed—with eight clients from regional areas and nine clients from metropolitan areas—to meet each month for consultation.
The meetings supported our goal of giving the people who access our services a voice, to inform what we do here at Guide Dogs and ensure we create positive outcomes for people with low vision and blindness. Common agenda items included:
communication
Guide Dogs' purpose statement and how we "bring it to life"
ideas for future services
technology
and many more.
The initiative was under review from September until December, with an external consultant completing individual interviews, surveys and group discussions.
A report outlining a list of recommendations was provided to the Executive and Board for final decision making on the future of the Committees.
We would like to thank the members who participated in the initial pilot phase of the Regional Advisory Committee: Bronwyn Drew, Mark Scofield, Carol Thorndike, Scott Grimley, Harrison Kirkwood, Neil McKay, Bruce McCallister, Bernadette Packer, Steve Fox, Elizabeth Wheeler, Annmaree Yee, Gabrielle Ringger, Janine Evans, Alan Hall, Jatin Dhanji, James Bevan and Naomi Bolter.
Our Customer Advisory Panel (CAP)
Established by our Client Services team.
The Customer Advisory Panel (formerly the Client Advisory Committee) was launched in 2019 as a pilot and transitioned to the existing format mid 2020.
It is made up of eight members and also includes a representative of the Guide Dogs NSW/ACT Board:
Neil Mackay (Chair),
Steve Fox,
Bruce McCallister,
Melinda Savvides,
Sarah Hirst,
Mark Scofield,
Harrison Kirkwood,
Janine Evans, and
Jacqui Jones (Board representative)
The purpose of the CAP is to ensure that Guide Dogs NSW/ACT have meaningful customer input into strategic and operational plans.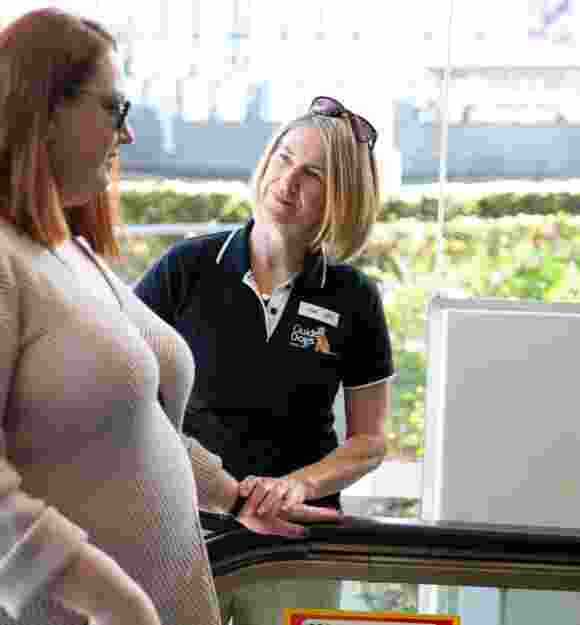 The CAP brings important customer perspectives to our planning and continuous improvement work, as well as helping us to further existing strong connections with local communities. It plays a key role in reviewing existing services, and advising on the co-design of potential new services.
The CAP has been established following a review of the previous Regional Advisory Committees, undertaken late 2019. The review led to 14 recommendations including combining existing country and metropolitan Regional Advisory Committees to better facilitate the exchange of views across regions and streamline operational processes.
Reflecting our diverse customer base, members of the CAP come from a range of backgrounds, age groups and locations. Their lived experience of disability contributes a wealth of knowledge to the organisation, and Guide Dogs values their contributions as experts in their personal experience of vision impairment. Members have experience with a range of approaches to orientation and mobility, including Guide Dogs, White Canes and use of Assistive Technology. They also use different sources of funding to access our services, including NDIS, My Aged Care and donor funding.
Please contact Calli, our Customer Service Manager, for more information on: 02 9195 6121
How to provide feedback
Your feedback is important.
We collate feedback throughout the year in various ways as well as conducting our regular Customer Advisory Panel meetings. If you would like to provide feedback you can do so by: