The Guide Dog Team
About Guide Dog Teams.
Each Guide Dog Team is a very special relationship between a person with low vision or blindness and their Guide Dog. This relationship is built through trust, loyalty, lots of detailed training, and love for one another.
While many people know about a Guide Dog's level of skill and training, it's important to realise that Guide Dog Handlers also undergo detailed training. Throughout this training, Guide Dog Handlers develop special skills that make for a successful partnership with a Guide Dog.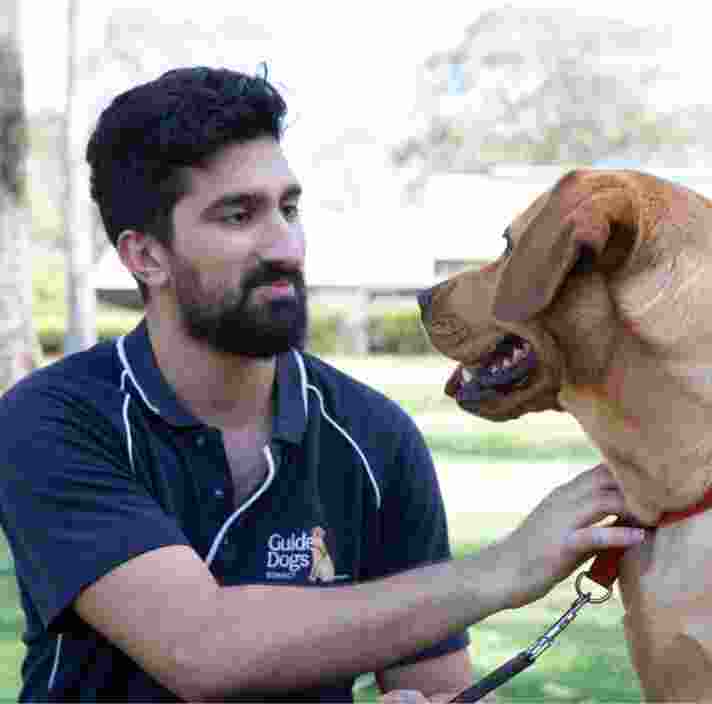 The Guide Dog application process
Guide Dogs are just like the people they support; each one is unique, with individual personalities and preferences.
That's why we take the time to learn about every person and potential Guide Dog's situation, lifestyle, and temperament before we can recommend a partnership.
Some of the things we consider before suggesting a partnership include:
The person's walking speed and balance
The person's ability to maintain orientation when travelling
The type of environments the person usually travels in
How frequently and how far the person travels.
Here's how the process usually works:
If you think you may benefit from having a Guide Dog, you would apply for an assessment.
You will then connect with our Orientation & Mobility Specialists and Guide Dog Mobility Instructors, to help determine if a Guide Dog would be suitable, and if so, the type of dog that would suit your mobility needs and lifestyle.
You will then be matched with a dog that has successfully completed our world-class Guide Dog training program.
Apply for a Guide Dog now
Start the journey towards greater independence today
FAQs
Frequently Asked Questions
Once you have a successful Guide Dog partnership, you'll start training together.
Training may take place from your home in a one-on-one session, or in a class with several other handlers and Guide Dog trainers. Classes are usually held in community areas, like a hotel for example.
Training usually takes around four weeks. Initially, training is focussed on getting to know your dog, and the cues and working positions to enable you to communicate clearly with your dog and establish consistency.
Training may take place from your home in a one-on-one session, or in a class with several other handlers and Guide Dog trainers. Classes are usually held in community areas, like a hotel for example.
As training progresses, the Team moves on to travelling in more complex and dynamic environments.
Training also includes:
public transport
shopping centres
traffic awareness
cafes
and other things that you might experience on a regular basis.
The Guide Dog is taught to guide you to specific destinations you visit often, through positive reinforcement at these destinations.
Training is complete when you're able to travel independently to various destinations with your Guide Dog.
Additionally, you'll be able to maintain the health and well-being of your dog without any assistance; Guide Dogs need to stay happy and healthy to complete their important work!
You'll be responsible for daily health checks, grooming and ensuring that your Guide Dog has plenty of exercise, along with time to play and enjoy being a dog.
Your Guide Dog Mobility Instructor conducts a 1-, 3-, 6- and 12-month follow-up in the first year of your partnership, then a follow-up every 12 months after that. You can also contact us at any time if you are having any issues or you need to learn new routes and destinations with your dog.
Like all of us, dogs eventually get older and start to slow down.
Deciding when to retire a Guide Dog is one of the hardest decisions a Guide Dog Handler will have to make, and our Instructors will work closely with you to help make the right decision for the dog.
When a Guide Dog retires, in most cases, he or she will continue living with the handler as a pet in well-deserved retirement.
If it is not possible for the dog to continue living with the handler, then they will nominate a special family member or friend to look after the dog in their retirement. This ensures handlers can stay in contact with Guide Dogs, even after they retire. We also have a list of people who have expressed an interest in taking on an older or retired Guide Dog, so can help find a loving home if required. Usually though, the dog stays with the handler or their family.