Commitment of time
Do you have enough time to raise a puppy?
Will you exercise and train the pup daily, including walks, obedience sessions, and general house manners, such as greeting people politely and waiting at the door?
Are you prepared to attend regular training sessions and outings during weekday business hours?
Do you commit to spending a large portion of your day with the pup, making it part of your life and normal routine? This means the pup is not left by itself for any longer than four hours per day.
Are you prepared to housetrain the puppy as directed by your Puppy Development Advisor?
Can you devote adequate time to socialise the pup in a variety of environments, at least 3-5 times a week? Socialisation experiences can be short and sweet (5-15 mins) and can be incorporated into everyday activities—like school pick-ups for example—where the pup can encounter various noises, floor surfaces, people, and animals.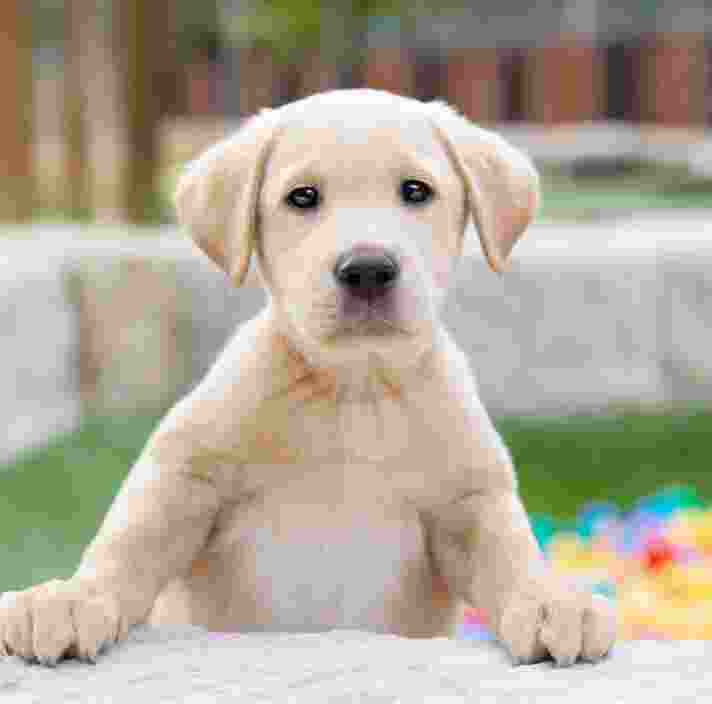 Responsibilities for your own safety
Learn what it takes to safely raise a growing puppy.
Are you able to physically handle a 30-40kg dog on lead?
Do you have the physical ability to perform a number of repetitive tasks when attending to the pup (from a small pup to a mature adult)? These tasks may involve lifting, twisting, stretching, bending, kneeling, and squatting.
Are you prepared to puppy-proof your property? This includes, but is not limited to:

The removal of all rat and snail baits, poisons, safe relocation of chemicals, cleaning products, and medicines, and moving electrical cords and other potential hazards.
Removing or blocking access to any dangerous plants.
Ensuring fencing is secure around pools and elevated areas to prevent falls.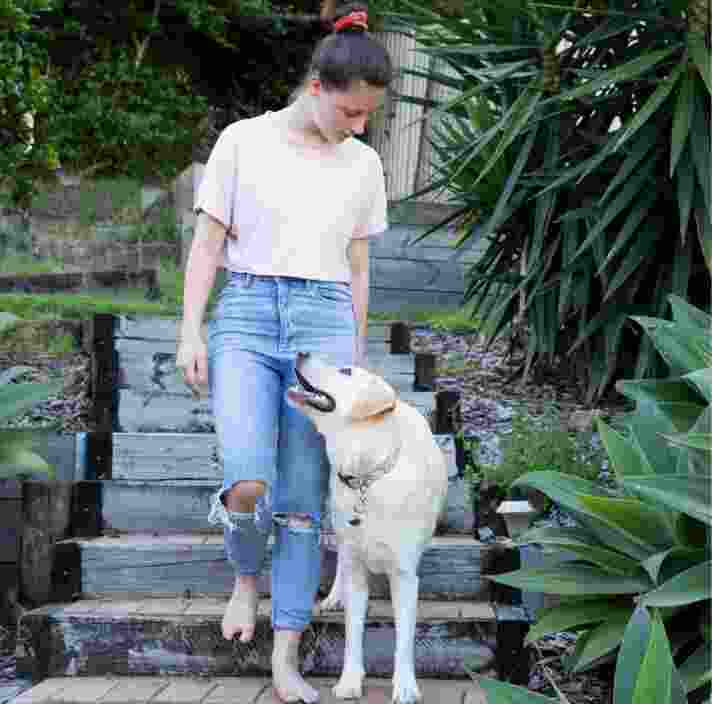 Responsibilities for the safety of the pup
Considerations for keeping your pup safe.
Is your fencing and yard secure, preventing the pup from escaping, and unwanted dogs from gaining access to the pup, especially when the pup is entire (not desexed), and during female heat cycles?
Do you have suitable outdoor shelter for the pup from weather (like harsh sun and rain)?
Are you willing to keep the pup on leash, or in a secure fenced-off area whenever it is outdoors?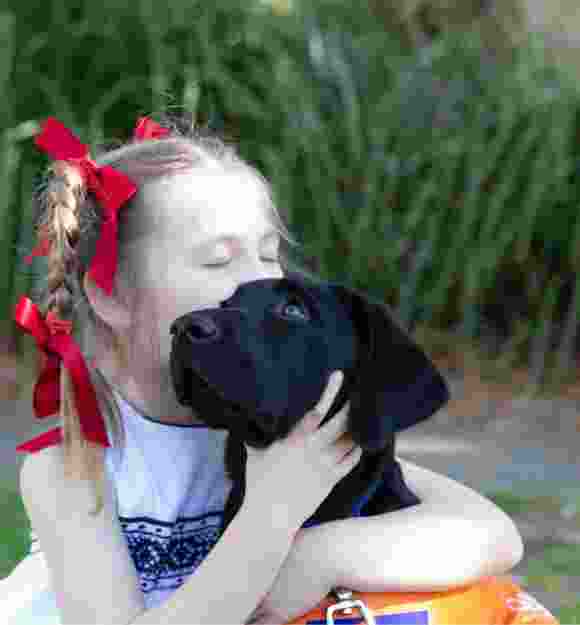 Is everyone in the household committed to keeping the pup safe? For example, moving small objects that could pose a choking hazard out of reach, and ensuring that gates and doors are shut securely.
Are you prepared to maintain the pup's health and well-being by following veterinary direction, ensuring preventative medication is delivered in a timely manner, and Guide Dogs NSW/ACT advice is adhered to?
Can you health check (we will show you how), and groom the pup on a regular basis?
Will you do your utmost to ensure the pup's safety whilst in your care, both at home and on outings where you may encounter a range of potential hazards such as cars and bikes?
Expectations of the household
Learn what's expected of your home.
Are all members of the household in agreeance with raising a pup and adhering to the guidelines set out by Guide Dogs NSW/ACT to ensure consistent handling of the pup?
Is anyone allergic to, uncomfortable around, or scared of, dogs? Do not forget that during the Puppy Raising period, our small pups grow at a rapid rate to become large dogs!
If other pets are present in the household, will they be comfortable with having a pup in the house? Are you willing to ensure that our criteria for house manners are followed, even though different rules may apply for your own pets?
It is not recommended to bring an additional pup into the household while caring for our pup, to ensure the focus is primarily on the Guide Dog pup.
Is the household prepared to clean up after the pup, including toileting accidents?
Prior dog experience is not essential – as long as you are happy to learn and follow Guide Dogs NSW/ACT guidelines, your Puppy Development Advisor will help teach and support you through this journey.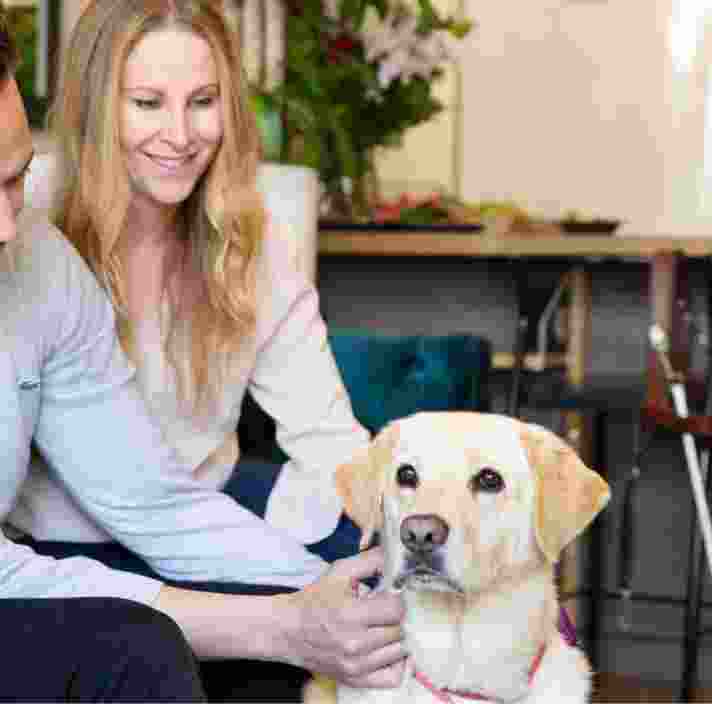 Focus on the mission
Do you have what it takes to raise a growing Guide Dog?
Raising a pup for Guide Dogs NSW/ACT is a rewarding experience. Returning the Guide Dog pup is emotional, but you can take pride in knowing that you are contributing to the lives of many people and enhancing their involvement in the community.
Are you committed to raising the pup adhering to the methods outlined by Guide Dogs NSW/ACT, even if they differ from what you have previously used to raise your own pet dogs?
Are you willing to be part of our Puppy Raising program, working together with your Puppy Development Advisor and other staff at Guide Dogs NSW/ACT.
Can you communicate with team members in a timely fashion? Email is our primary means of communicating with our Puppy Raisers. Having access to email is preferable, but not essential to you partaking in the Program.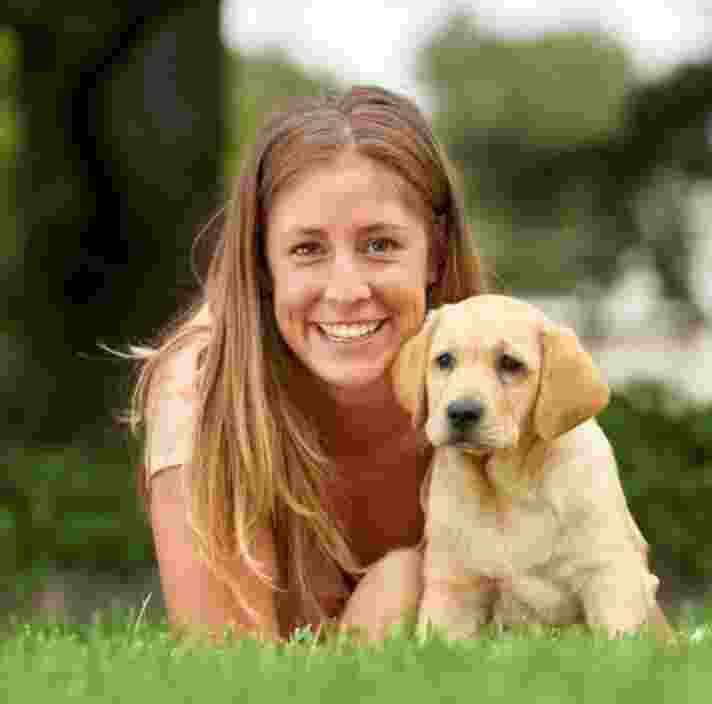 Ensuring the pup's health and physical development
How to keep your pup healthy and on the right track.
Monitor the pup's health, and report any concerns to Guide Dogs NSW/ACT staff.
Administer preventative and prescription veterinary treatments as directed by Guide Dogs NSW/ACT staff, or an external veterinarian.
Ensure that the pup remains at a suitable and healthy weight and body condition as per advice from your Puppy Development Advisor.
Exercise and walk the pup regularly (this should typically be daily).
Establish good toileting, feeding, and sleeping routines.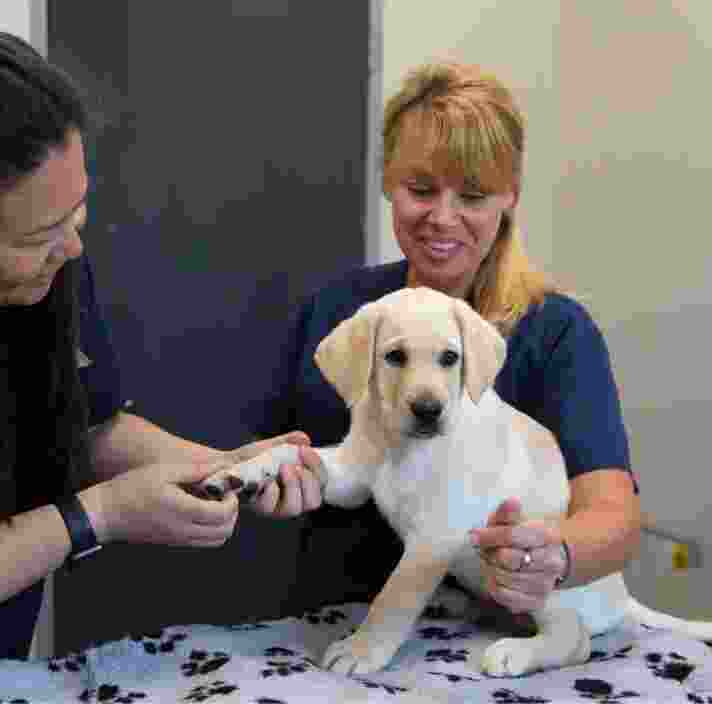 Ensuring the pup's behavioural development
How to keep pups on their best behaviour.
It is expected that you will:
Adhere to the concepts, techniques, and guidelines as established by Guide Dogs NSW/ACT regarding handling, training, and socialisation of pups.
Attend regular training sessions with the pup. These sessions are generally held on a weekly basis for the first 2 months, and then progress to fortnightly sessions.
Teach the pup basic dog skills (such as sit, walking nicely on lead, and body handling).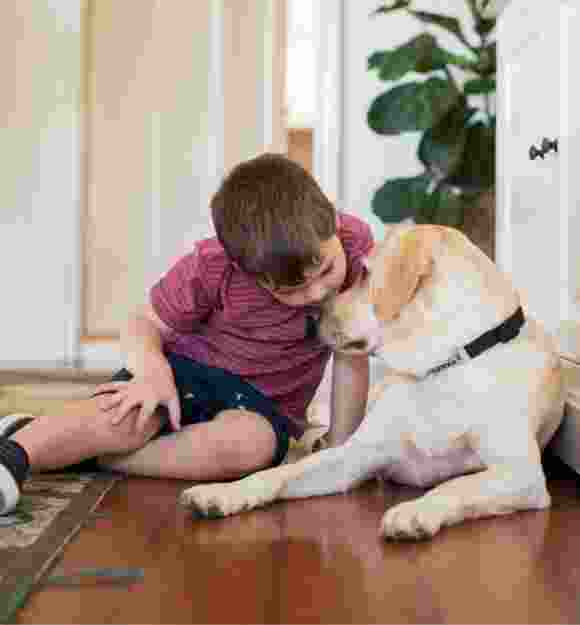 Teach the pup good house manners (such as staying off the furniture and counters), and social skills (such as greeting people politely and settling quietly).
Regularly socialise and expose the pup to a variety of environments and experiences in a positive manner, enabling the development of a confident, well-mannered Guide Dog.
Please note that failure to abide by these Puppy Raising / Temporary Carer Responsibilities may result in Guide Dogs NSW/ACT rehoming the pup.
Guide Dogs NSW/ACT Responsibilities
We're on hand to support you.
Throughout your experience as a puppy raiser, our responsibilities are to:
Treat all Puppy Raisers, Temporary Carers, Volunteers and the general public with respect and kindness at all times.
Treat all pups and dogs with respect and kindness, using current, up-to-date training methods, which evolve as new techniques arise.
Ensure the pup's welfare is always first and foremost. Staff will provide suitable training advice for each individual pup, based on their comfort and capabilities, to ensure a positive learning experience for the pup.
Educate and teach Puppy Raisers the concepts, techniques, and guidelines as established by Guide Dogs NSW/ACT regarding handling, training, and socialisation of pups.
Monitor and oversee the pup's ongoing health and development.
Provide veterinary treatment, including flea and tick, heartworm, and worming preventions, and cover the cost for reasonable external consultations or treatments, only at authorised Veterinary Clinics.
Provide Puppy Raisers with ongoing support throughout the Puppy Raising period, including regular training sessions, emails, and phone calls.
Notify Puppy Raisers when it is time for the pup to return for assessment and training.
Provide Puppy Raisers with updates about the progress of the pup in training.
Invite Puppy Raisers to graduation if the pup raised graduates into one of our Programs.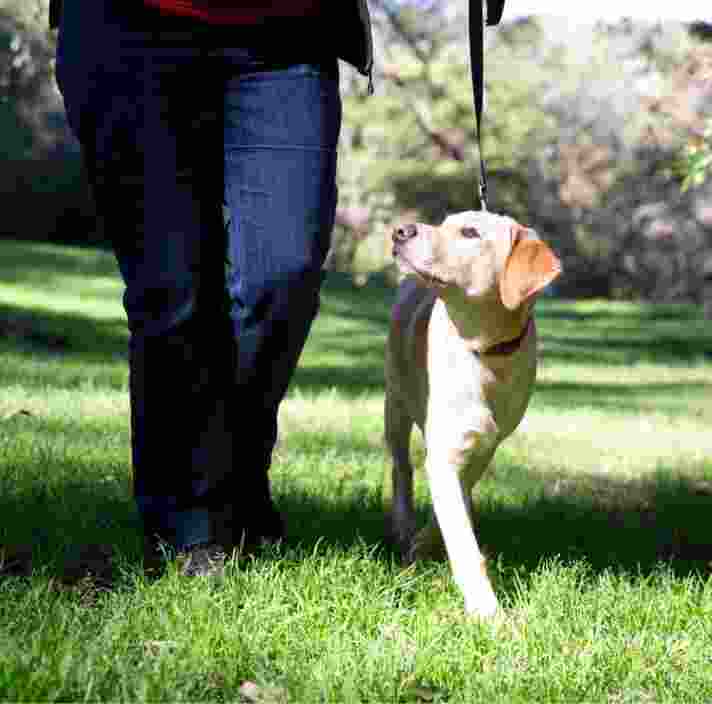 Policies
Ensuring the best environment for carers and pups alike.
All Guide Dogs NSW/ACT Puppy Raisers and Temporary Carers must comply with the following policies:
Apply now
Puppy Raiser and Temporary Carer Application
Puppy Raiser and Temporary Carer applications are now open for the following areas: Camden, Campbelltown and Canberra.
If you live in these areas and are interested in becoming a Puppy Raiser, please contact our Guide Dogs team directly by emailing Guidedogscentre@guidedogs.com.au.
Puppy Raising and Temporary Carer applications for all other areas are currently closed but there are lots of other ways for you to get involved with Guide Dogs: